MASTER DRAINAGE PLANS ARE OUR SPECIALTY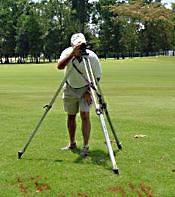 Every successful drainage project starts with a plan. Master Drainage Plans are a specialty of TDA. We have planned projects at over 300 golf courses all over the United States, including many of America's top 100 courses. Plans have ranged in size from as small as half of one fairway to a complete 18-hole master plan.
It all starts when you contact us for a consultation. We send a drainage expert on-site to walk your property with you and identify key areas of concern. We shoot elevations and record data, then crunch the numbers and apply proven principles of drainage engineering. Next, we integrate our patented systems and components to determine the best solution for your property.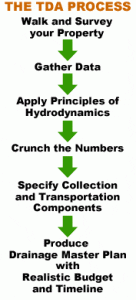 Once the plan is completed, you will have a clear picture of the best solution for your problem and a realistic appraisal of the cost and length of the project. With this information in hand, you can clearly communicate with your board or owner and arrive at a project budget and timeline that best suits your individual situation.
Many courses implement the project over a period of years which allows them to fit the work into their budget and never have to completely close to play.
Considering a drainage project? The best thing you can do is start with a proper Master Drainage Plan. You will be surprised with how affordable a professionally-prepared Master Drainage Plan is. Call us to discuss your project.
WE DRAIN YOUR COURSE WITHOUT CLOSING IT!
Reduce the cost of planning by scheduling your site visit when one of our planners is in your area. Travel expenses can be prorated between projects. Call us to schedule your visit. 800-999-2794
| | | | | |
| --- | --- | --- | --- | --- |
| |   March 2014 |   April 2014 |   May 2014 |   June 2014 |
|   Dennis Hurley |   IL, NC |   CT, TX |   KY, NC, TN |   ME, MI, OH |
|   David Steel |   FL, CA |   GA, NY |   NV, OR |   FL, AL, SC |