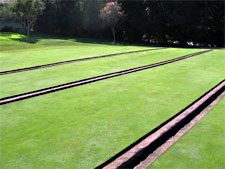 When certified golf course superintendent Larry Johnson was fighting soft and soggy conditions on two of his cool season greens in Sacramento, California, he chose Turf Drainage Co. of America to solve his problem. Larry was familiar with TDA through the extensive work previously performed in his fairways, so he felt confident with proceeding to drain his two worst greens.
The installation contractor, Turf Drainage Co. of the West, mobilized a crew out of the Bay Area, and completed the installation on both of the greens in less than one week. Following the standards and methods TDA has established for greens' installations, the turf was playable the day after the work was completed.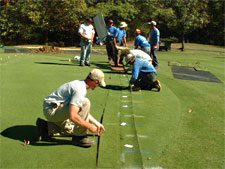 Prior to commencing any excavation, each trench has the sod removed. Every individual piece of sod is labeled so that it is replaced in the exact spot from which it came.
The trenching then proceeds using the Tarp System developed by TDA, which allows for the clean removal of spoils without any damage to the putting surface.
Larry elected to continue the trenching down and across the approaches to provide his membership the opportunity to play into the green with bump and run shots.