Perma Basin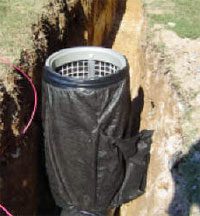 Perma Basins™, patented by Turf Drainage Company of America, not only collect surface water but have permeable sidewalls to collect seepage water around the basin — firming the soil profile up around the basin. Perma Basins are specified by architects on new projects, as well as used by superintendents wherever a drainage basin needs to be added or replaced.
Easy installation makes them perfect for in-house replacement for older plastic basins that tend to "trash over" with grass clippings due to narrow openings.
No other basin provides the flexibility of a Perma Basin. Different models are available depending upon the depth needed to collect seepage water, but all models have universal sleeves that enable the installer to connect 4" to 8" pipe without special fittings. Seepage drainage collection lines and solid pipe outfall pipes can be graded through the same sleeve. Standard units range from 18" to 6 feet deep, and can be custom made to any size.
Constructed of cast aluminum, Perma Basins have a clean appearance as well as the largest grate opening in the industry to help reduce the "trashing over" from grass clippings that is common with other basins.
Perma Basins have become a popular item with architects for new construction projects. Because they are designed from the beginning to have permeable sidewalls, they help to firm the areas up around the drainage basin. They not only are easy for contractors to install, but when the project is completed, they are the easiest basin for a superintendent to add drainage to in the future.
KEY FEATURES:
Permeable sidewalls to not only collect surface water but also the water trapped in the soil profile around the basin.

Large openings between the grate bars reduces the tendency to "trash over" from clippings.

The deeper you build the basin, the more area there is for storage of trash under the outfall pipe.

No need to knock out holes in the basin walls to connect outfall pipes. Simply slide pipe up and down to the grade desired and backfill.

No special fittings or connectors needed for different sized pipes. Universal sleeve connector simply wraps around the pipe to be connected.

All-aluminum construction means years of service. Won't deteriorate in sunlight like plastic grates do.
Channels and Curbing
Collecting streaming water before it enters a fairway is the least expensive way to solve drainage problems.
The key to effectively collecting surface flow is to convert the flow from sheet flow to stream flow wherever possible. Cart paths often present an ideal opportunity to do this, as water moves across a path towards a fairway. Curbing can direct the water into a concentrated stream to be picked up by surface inlets.
Turf Drainage Company of America manufactures components for this purpose. Channel drains enable you to build a channel inlet as wide as is necessary to accommodate a stream flow or a curb break. If no curb is currently installed, TDA manufactures Drive-Over Rubber Curbing to allow golf carts to easily access the fairways while directing the water to an inlet. Our Drive-Over Rubber Curbing can be retrofitted on concrete or asphalt paths, and is ideal for small areas that don't justify bringing in a curbing crew.
Channel Drains aren't just for use along cart paths and around decks. Since these Channel Drains can be installed without pouring a concrete form, they can be used in fairway and rough areas to collect streaming water before it saturates the turf. Turf Drain Channel Drains come with different kits that allow you to fit the basin to your stream. These low profile basins' ability to collect a wider stream with less visibility is what makes them the product of choice for America's most prestigious courses.
Wide sheet flows can make a mess of fairway areas. With Turf Drain Drive- Over Rubber Curbing, superintendents can inexpensively direct this water to a single basin without interfering with normal cart path traffic patterns. The curbing can be crossed by the golfer with hardly a notice, yet it is effective enough to direct thousands of gallons of water to a well placed inlet. The curbing is inexpensive and can be installed with a standard caulk gun.