Franklin Hills Country Club and the term immaculate condition are synonymous. But, for Brian Schweihofer,the one aspect of the course that he was not pleased with was drainage.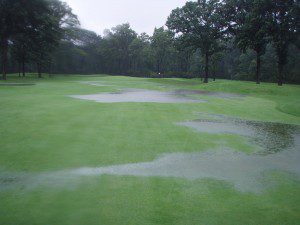 Prolonged wet stretches, such as what the Midwest expereienced in 2011, meant missing mowing opportunities that kept Brian from having the course in tournament condition every day. Brian and Dennis Hurley, President of TDA, spent three days walking the course in order to provide the club with a detailed plan of what was needed to gain control over the course during wet periods. The membership approved the plan by a wide margin in July, and will start the first phase of construction in September of this year.
Siphon Systems, Inc, a certified TDA contractor since 1991, will do the installation. SSI has installed TDA designs on famous courses such as Seminole, East Lake, Wade Hampton and many others. When completed, the project will involve installing drainage on 15 of the 18 holes. The project will be completed in 2012, and will total over 6,000 man-hours.
"After 2 years of research and planning, I am confident that Dennis's plan is that right solution for the club…"
Brian says, "The past few seasons have driven home the point that having greater control of water is critically important. At Franklin Hills, we have a state of the art irrigation system that allows us to keep up with our members expectations. Unfortunately, our 50+ year old drainage system does not. Every year, we deal with too many days of overly wet conditions that prohibit the use of carts and less than desirable playing condition. After 2 years of research and planning, I am confident that Dennis's plan is that right solution for the club."