Drive-Over Rubber Curbing easy and effective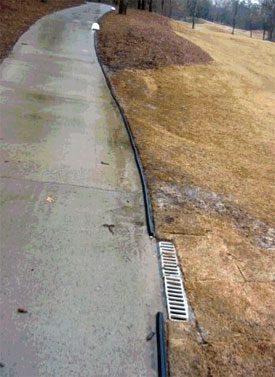 Wide sheet flows can make a mess of fairway areas. Drive over rubber curbing can be used to change sheet flow that is coming across cart paths into stream flow that can be easily collected by a single drainage basin. 
With the Turf Drain Drive-Over Rubber Curbing, superintendents can inexpensively direct this water to a single basin without interfering with normal cart path traffic patterns. The curbing can be crossed by the golfer with hardly a notice, yet it is effective enough to direct thousands of gallons of water to a well placed inlet. The curbing is inexpensive and can be installed with a standard caulking gun.